Stories of Change for Children: UNESCO supports storybook series by Third Story Project in Myanmar
04 Apr 2023
Consider, for a moment, the following scenarios: 
Mia, a caterpillar, was discriminated against and rejected by flowering plants because of her looks. But a bee helped her find a home among Hibiscus plants until she evolved into a beautiful butterfly, giving many benefits to flowering plants. 

Pharthugal, a giant boy, was considered a curse by the villagers, and they plotted to cast him out or kill him. But on several occasions, Pharthugal proved to the villagers that they were wrong, and eventually, they realized that physical strength, when used properly, had many benefits. 

Toe Toe had different interests from the other boys in his school. For this, he was often ridiculed. But Toe Toe's mother would always remind him "If you study hard, if you are a good citizen, then, you are a valuable person." His schoolmates eventually accepted and respected his being different and even cheered his dance performance during the school prom. 
These are only a few vivid 'snapshots' from five stories – Mia, The Little Flower with Wings; Pharthugal; The Dance Show; Wild Lemon Football Club; and The Story of Chicken Potato Curry – showcased by a series of children's storybooks published by the Third Story Project (TSP) in Yangon, Myanmar, with support from UNESCO and the UN Peacebuilding Fund (PBF). 
The five stories address situations of discrimination, isolation, and other challenging topics for young children, and stress how even children living with poverty and the socially marginalized can pursue the realization of their dreams through perseverance, resilience, and teamwork.  
Given that child development specialists contend that the first critical period of brain development begins around age two and ends around age seven, these stories are designed to instill among young children – primarily those below age 10 – social values of tolerance, inclusiveness, diversity, unity, and peace. 
The Third Story Project is a local social enterprise committed to publishing children's storybooks focusing on peace, diversity, gender equality, education and the environment. TSP has produced over 70 storybooks over the past five years written in the Myanmar language and then translated into 20 ethnic languages. 
UNESCO Myanmar's head of office Ichiro Miyazawa notes that 'the storybook project also promotes children's literature and the revival of folk literature and is closely aligned with UNESCO's Education for Peace initiatives.'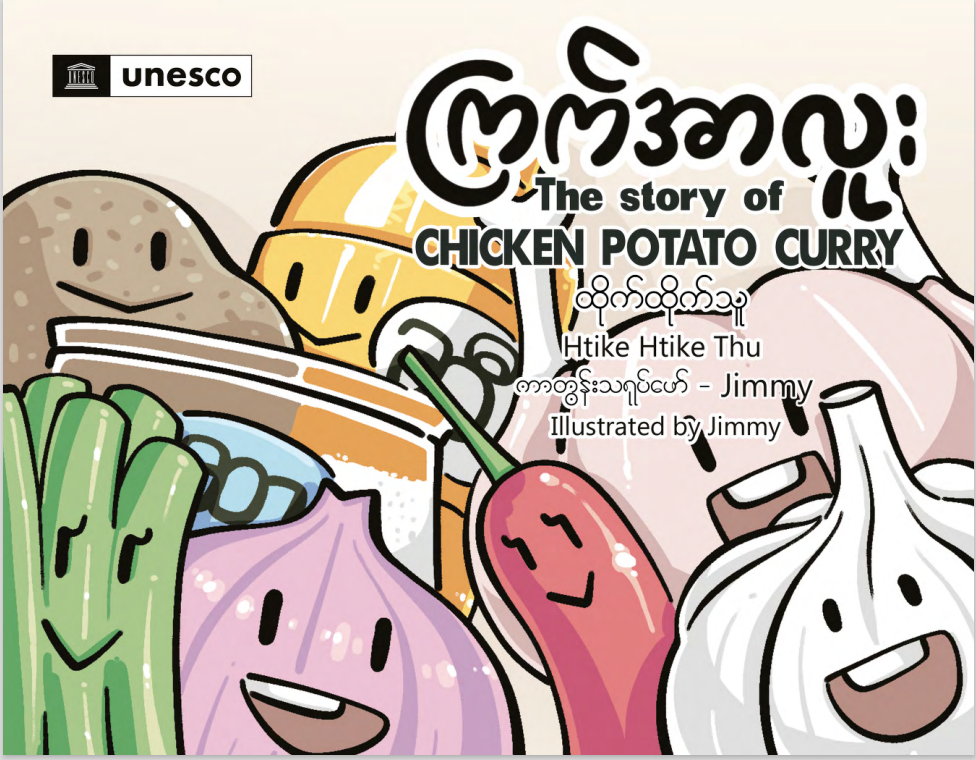 The five stories comprising this series were chosen from 20 that had been submitted as outputs from an online Story Creation Workshop recently organized by the TSP. Participants included teachers, librarians, parents, workers from ethnic organizations, and young adults.  
All five authors of these stories are first-time writers. Except for Pharthugal, which is an adaptation from an old folktale, the stories are entirely original creations. 
The youngest of the selected authors is age 23. In her words, she wrote The Dance Show 'to introduce young readers to gender diversity in a gentle way.' She intends to write more stories for LGBT children and their parents.  
The author of Wild Lemon Football Club, age 61, said he will continue to write stories for children in rural areas who have little access to basic education.  
According to the author of Mia, the Little Flower with Wings, her story is not only about the environment. Even more important, it is about friendship despite physical differences.  
Complementing the stories' narrative texts are colorful illustrations contributed by local artists between the ages of 22 to 40. How these artists developed their interest and skills in drawing are stories in themselves. To cite but one example, the artist-illustrator for Wild Lemon Football Club recalled, 'I borrowed comic books from rental shops and started practicing drawing pictures.'  
All storybooks end with a set of questions encouraging deeper reflection on a given story's theme or subtext. Parents and caregivers are expected to facilitate discussion, ensuring that children engaging with these stories not only enjoy them as anecdotal tales, but derive from the stories critically important lessons that will contribute towards children's development as responsible and peace-loving adults.  
While the books also aim to reinforce children's love for reading, both TSP and UNESCO recognize that today's young readers may prefer 'watching' stories over reading texts. The storybooks therefore were also transformed into captioned videos and have been included in the TSP YouTube playlist under the label, 'Euphony, highlighting stories of peace, tolerance and diversity'. A session on Digital Storytelling was included in the Story Creation Workshop. 
The storybooks in print format are being distributed in learning centers, libraries, and even Internally Displaced People (IDP) camps. Recipients hail from 70 townships of Ayeyarwady, Bago, Chin, Kachin, Karen, Karenni, Magway, Mandalay, Mon, Naypyidaw, Rakhine and Sagaing.  
UNESCO and TSP are confident that the lessons from the storybooks series will be manifested in the behavior and attitudes of children and come to inform their adulthood as tolerant and empathic members of Myanmar society. Children will learn to recognize the Pharthugals, Toe Toes, and Mias in their own communities, and remain appreciative of differences in ethnicity, age, gender, and economic background. Indeed, amid the current social and political situation in Myanmar, it is imperative to – loosely referencing UNESCO's own Constitution – 'build defenses of peace in the minds of young children.' 
The Children's Storybook Project is supported by the UNESCO Myanmar Office through the UN Peacebuilding Fund Project, Preventing Hate Speech and Promoting Peaceful Society Through Media and Information Literacy.  
For more information: yangon(at)unesco.org. 
---
Reported by Ramon Guillermo R. Tuazon, UNESCO Myanmar International Consultant, Yangon