Promoting universal access to documentary heritage in the Asia-Pacific - OpenGLAM webinar series
09 Sep 2020
At times of global crisis and beyond, memory institutions will be crucial in upholding the public right to know and access to information for present and future generations to understand the pandemic and inform scientists, historians and policy-makers. Within the framework of International Day for Universal Access to Information 2020 (IDUAI 2020), the Bangkok celebration will focus on access to information, transparency and openness as the international standards moving forward in the 2030 Agenda for Sustainable Development.
In collaboration with Creative Commons, Open GLAM and the Memory of the World Regional Committee for Asia-Pacific (MOWCAP), UNESCO Bangkok will organize a series of webinars on Universal Access to Documentary Heritage in Asia and the Pacific. The webinars are designed for memory institutions, such as galleries, libraries, archives and museums (GLAMs), interested in digitizing and opening their collections under an open license to promote universal access to documentary heritage.
International experts from UNESCO, Creative Commons, Wikimedia Foundation, RightsStatements, Australian Libraries Copyright Committee, The Heritage Lab, Europeana, National Library Board in Singapore and OpenGLAM will introduce the principles of Open Access and licensing frameworks and share their experiences in implementing Open Access policies within their institutions.
The four webinar sessions will be organized as follows:
 
Session 1: Universal Access to Documentary Heritage
Lectures with Q&A / 25 September 2pm to 3pm (Bangkok time)
This opening session will introduce the basics and benefits of Open Access principles and policies with speakers from UNESCO, Creative Commons, Wikimedia Foundation and MOWCAP.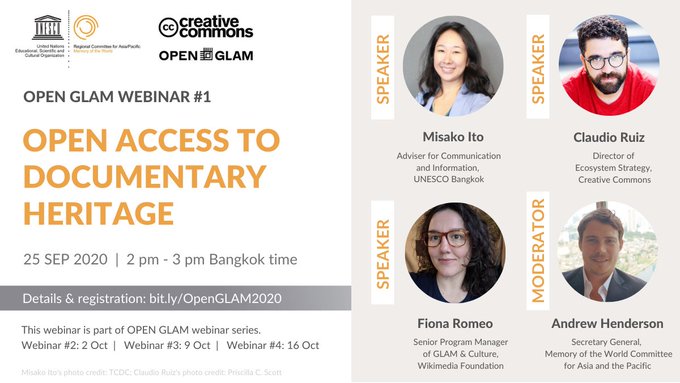 Session 2: the Basics of Copyright and Open Access
Lectures with Q&A / 2 October 2pm to 3.30pm (Bangkok time)
This session will introduce the participants on the basics of copyright, RightsStatements and Creative Commons licenses and tools, and how they can use this knowledge in their institutions.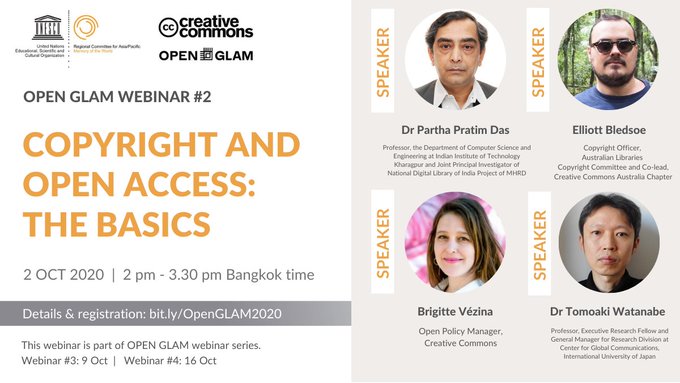 Session 3: Open Access Cases and Good Practices
Experience sharing and panel discussion / 9 October 2pm to 3.30pm (Bangkok time)
This session will introduce three initiatives regarding digitization and open access in Asia-Pacific and Europe. Panelists from Europeana, ASEAN Digital Library (National Library Board of Singapore) and Wikimedia Indonesia will discuss 'best practices' and 'lessons learnt' of these project.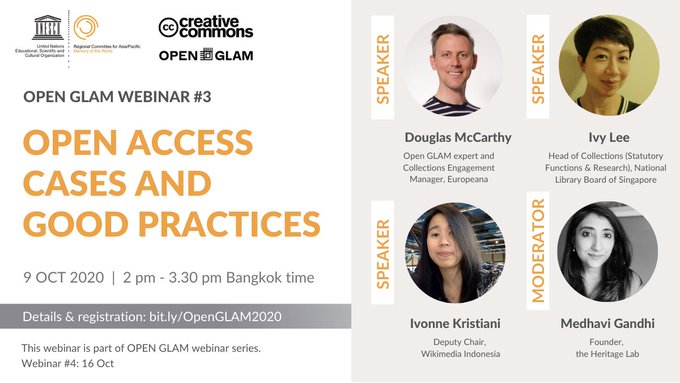 Session 4: Open Access At Your Institution: How To?
Moderated discussion / 16 October 11am to 12.30pm (Bangkok time)
After the three first sessions, participants will have a basic idea of open access and open licenses. In this session, an expert from OpenGLAM will guide the participants to brainstorm and discuss the next steps to implement open access within their own institutions.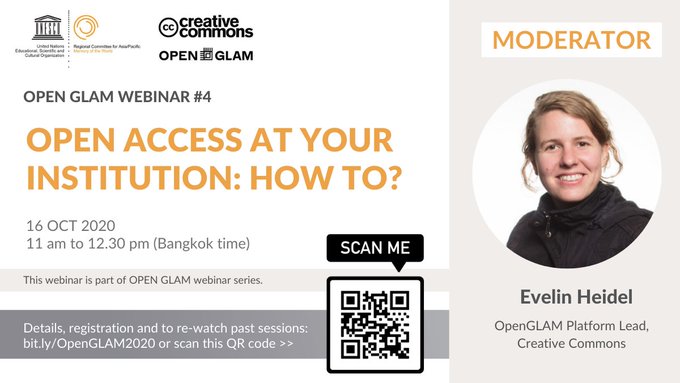 The OpenGLAM Webinar Series – Universal Access to Documentary Heritage in Asia and the Pacific is free and open to the public. We encourage all memory institutions in the region to join the webinars. Interested parties should register through the following links:
We invite all registered participants to: