Lao PDR youth in Luang Prabang innovate ways to safeguard their living heritage for sustainable development
21 Oct 2022
            

By Montakarn Suvanatap Kittipaisalsilp,

Programme Officer, Culture Unit, UNESCO Bangkok 
            
---
During a UNESCO Bangkok Facebook Live presentation on 15 October 2022, 25 youth from different villages in Lao PDR's Luang Prabang province presented five design prototypes of simple, cost-effective and practical solutions for challenges faced by those who practice various kinds of Lao living heritage and wish to transmit their knowledge and skills to a new generation.  
These design prototypes grew out of two months of participation in studies, discussions, interviews, fieldwork and design studio sessions alongside national and international experts, in UNESCO's heritage forum, 'Building Community-centered Innovations to Promote Sustainable Development and Safeguard Intangible Cultural Heritage', which ran from 20 August through 15 October 2022, and combined the three international principles of intangible cultural heritage, living heritage, and sustainable development with concrete practices in design thinking. The Forum was generously supported by United Nations University's Institute for the Advanced Study of Sustainability (UNU-IAS), the Tokyo Institute of Technology (Tokyo Tech), and the International Training Centre for Intangible Cultural Heritage in the Asia-Pacific Region (CRIHAP–UNESCO). Additional collaborators included the Traditional Arts and Ethnology Centre (TAEC), Department of Information, Culture and Tourism of Luang Prabang Province (DoICT), and Lao New Wave Cinema (LNWC).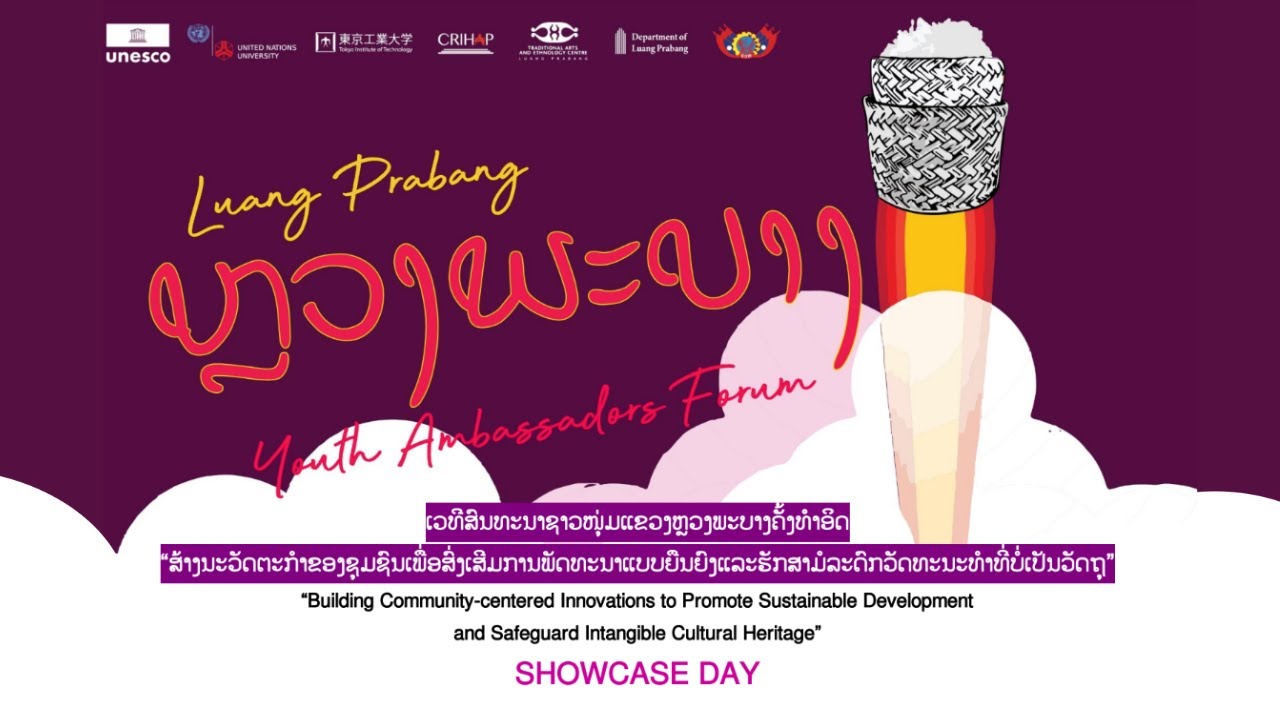 Lao youth had an opportunity at this Forum to study various approaches to safeguarding intangible cultural heritage, ethics of community involvement, cultural and creative industries, and the localized interpretation of the UN's Sustainable Development Goals (SDGs). They also engaged in critical thinking on issues related to the discontinuation of cultural communities, such as cultural appropriation, mass tourism and over-commercialization. Participants worked closely with experts from UNU and Tokyo Tech to undertake steps in design thinking from the perspective of empathic ICH practitioners, defining problems certain cultural communities are facing, and ideating solutions by creating and testing prototypes with target users. Youth also learned video shooting and editing techniques from professional cinematographers of Lao New Wave Cinema. 
Lao potter and youth participant Noy Phanthanith, from Chan Nuea Village, shared his appreciation of the forum, commenting, 'Regardless of whether we work at the local level or any larger scale, before we act, it is crucial to study deeply and plan. Putting emphasis on the thinking process also shows that we are truly ready to tackle problems'. Further recalling what he learned from the Forum, he noted, 'In the end, I want to be the youth who can safeguard the living heritage of his own hometown. I want to be a role model for other young people who are interested in working with their cultures'.  
Five presentations during the Facebook Live broadcast focused on four living heritage elements of local villages in Luang Prabang: pottery-making, natural basket-weaving, ancient Luang Prabang recitation skills, and playing the Lanad musical instrument. The presenting youth addressed economic, social and environmental challenges identified by the practitioners of these traditional cultures, all while employing a 'design thinking' approach. 
Each of the five presentations was followed by commentaries from three UNESCO collaborators from various organizations of expertise: Ms Kay Poh Gek Vasey, a Founder and Chief Connecting Officer of MeshMinds and the MeshMinds Foundation, Singapore; Ms Anna Wai Yu Yau, a Heritage Specialist and Founder of Contemplate Culture Community (CCC) in Hong Kong SAR, and a member of UNESCO Asia-Pacific Higher Education Network for Safeguarding Intangible Cultural Heritage (APHEN-ICH); and Dr Jonghwi Park, an Academic Programme Officer and Head of Innovation and Education at UNU-IAS. Their comments led to constructive rethinking of youth prototypes and suggested potential opportunities for these prototypes to be made into reality. 
'Design thinking helps me conceive my ideas in a way that others can relate to', explained Manyvanh Sisomphone, a youth participant from Vishun Village. 'It helps solidify imagination into thought that is tangible and systematic. The process also somewhat ensures that ideas that come out of our brainstorming can be made practical'. Manyvanh also aspired to use her newly gained knowledge and skills in improving her village and encouraging people to seek tangible benefits from their traditional wisdom. As she observed, 'I want to help my sisters, my brothers and, in the future, my children to live better and more meaningful lives with their living heritage as the basis of development. I want to have a voice in raising awareness that development cannot be good to humanity if it does not progress hand-in- hand with keeping to the cultures of indigenous peoples'. 
---
For a recording of prototype presentations:
https://youtu.be/XnmN1ijaa-k (with interpretation in English)
https://www.facebook.com/unescobangkok/videos/3238403259756274/ (original file)
For a recording of the documentation presentations (in English) by Lao youth:
https://www.facebook.com/unescobangkok/videos/254554256690695
https://www.facebook.com/unescobangkok/videos/4616467895112822 
For all 17 idea presentations (in English) by Thai youth: https://tiny.cc/ICHideasTH
Main photo credit: (c) TAEC
---
Background 
The 'Building Community-centered Innovations to Promote Sustainable Development and Safeguard Intangible Cultural Heritage' forum derives from an extensive series of online and hybrid youth forums initiated by the Culture unit of UNESCO Bangkok and CRIHAP–UNESCO amidst the COVID-19 pandemic in 2020 in Lao PDR, Myanmar and Thailand.  
This latest, province-focused forum represents the second iteration of this initiative in Lao PDR. In 2021, UNESCO and CRIHAP–UNESCO organized the nation-wide, two-month youth forum, 'Community Heritage for Sustainability'. It was attended by Lao youth from Luang Prabang, Xiengkhuong, and Pakse. At that larger venue, 15 youth teams presented their detailed documentation of various intangible cultural heritage elements, from pottery and weaving to boat-racing traditions and local house-warming rituals. 
This type of forum has changed the way UNESCO approaches the issue of safeguarding cultural heritage in Asia and the Pacific. Before the pandemic, on-site, in-person forums would bring people from different provinces and countries together to conduct fieldwork in places that they did not know at first hand. As a result, fieldworkers approached local knowledge and community consensus as relative outsiders, having little former or ongoing connection to the socio-cultural context under consideration. Notably contrary to that approach, the more recent hybrid forum format requires local youth to work within their own neighbourhoods, or as 'insiders' to ongoing social and cultural activities their communities are conducting. 
The 'Community Heritage for Sustainability' forum has been praised by community elders that participated as knowledge contributors to youth participants. 84-year-old Lakhon Chatri dancer Thong-arb, for instance, spoke about a youth project idea to continue the senior Lakhon Chatri performing art of Wisetchaicharn, from Ang-thong Province: 'One day, this young man, Fluke, called me asking to join a Lakhon Chatri troupe with him. He said, "Don't abandon me. Come perform with me." I was very happy that someone still wants me for something!' 
Passachol Khawdee, a youth participant in the Thailand edition of the Forum in 2020, has commented, 'At the forum, we addressed risks and threats to our village's ICH of Tai Yai traditional clothing. It is facing a decline in everyday life. People only wear it to please tourists. Somehow tourism is the only thing that keeps our traditional clothing alive, yet in an unclear direction and with an unsystematic management of cultural resources'. Adding to Passachol's observations, Thai participant Khaming Lungsaeng noted, 'We proposed a project to promote this intangible heritage, which will enable us to also promote tourism in a healthier way. 
These newly-conceived forums have also reshaped the perspective of national and international experts consulted by UNESCO. UNESCO-accredited ICH facilitator Dr Paritta Chalermpow Koanantakool comments, 'I, as an old person, have learned so much from younger people. We all need to learn more and more from people of different generations in this day and age'. Ms Angela Srisomwongwattana, a UNESCO-trained national facilitator for intangible cultural heritage, and a co-founder of the Thailand-based Little People in Conservation Group, also noted, 'Seeing that young people from many ethnicities are interested to work in the field of cultural heritage protection, I am happy and proud that what many of us [among the older generation] have been trying so hard to achieve could well be completed by younger and stronger people'. 
---
Montakarn Suvanatap Kittipaisalsilp joined UNESCO in 2011 and is currently a programme officer for Culture at UNESCO Bangkok. With education background in linguistics, museology and cultural project development, she is responsible for implementing national and regional capacity-building projects on intangible heritage safeguarding, sustainable heritage management, professionalization of heritage-related careers, and prevention of illicit trafficking of cultural property. She has a keen interest in interdisciplinary and participatory approaches to heritage safeguarding and sustainable tourism, with a focus on ensuring ethics in working alongside local communities and indigenous peoples.